Regular price
$89.95 USD
Sale price
$39.99 USD
Unit price
per
Sale
Sold out
HEALTHY
TEETH, 
A LIFETIME 
INVESTMENT
!
Your teeth are the first thing people notice when they look at you! Don't let brown spots, plaque and tartar mess up that moment.
Dentise™ is a pain-free dental scaler recommended by dentists.
Professional cleaning lands in your house.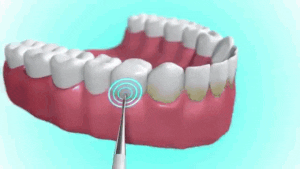 Dentise™ allows you to : 
✔︎ Remove brown spots, plaque and tartar.

✔︎ Keep your breath fresh.

✔︎ Get whiter teeth.

✔︎ Use Dentise ™ comfortably in your bathroom.

✔︎ Waterproof
EXCESS OF TARTAR IS RESPONSIBLE FOR 78% OF DENTAL PROBLEMS
Brushing your teeth everyday is not enough. Tartar, if not removed regularly, can lead to serious consequences such as inflammation, bleeding and cavities.
 

TECHNOLOGY USED
Dentise™ uses gentle vibrations to remove plaque and tartar.

Equipped with 5 adjustable intensities in order to adapt the scaling to your teeth's sensitivity, for an optimal and painless result.

Easily reaches all your teeth thanks to its ergonomic construction.
SIMPLY BE DAZZLING ✨
Remove
coffee
,
tea
,
wine
and
tobacco spots
 to help keep your breath fresh and give you a confident smile.
Product characteristics :
Rated voltage: 5V
Rated current: 500mA
Train position: 5
Files Integrated lithium battery: 3. 7V
Waterproof rating: IPX6
OUR GUARANTEE
After thousands of satisfied customers and hundreds of positive reviews, we're sure you'll love Dentise
™ 
too, but in case you're still not convinced, don't worry, you can get a
14 day guarantee
.
If you are not satisfied with the results, you will be refunded!
*Product not available in stores.
View full details
My partner and I love this dentise! we bought it mainly for the brown stains we have had for several years and to our surprise it works great, it removed 90% of the stains
excellent scaler, it cleans my teeth perfectly and does not hurt, I recommended it to all my friends it is the revolutionary product
Excellent product exceeded my expectations works very good. Perfect Works